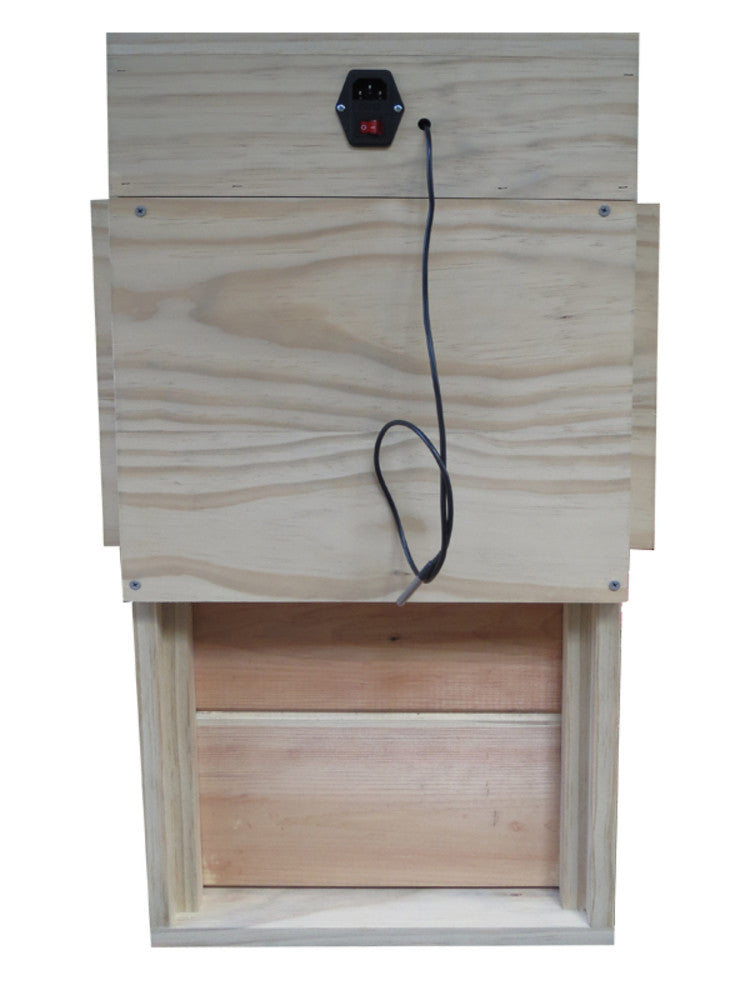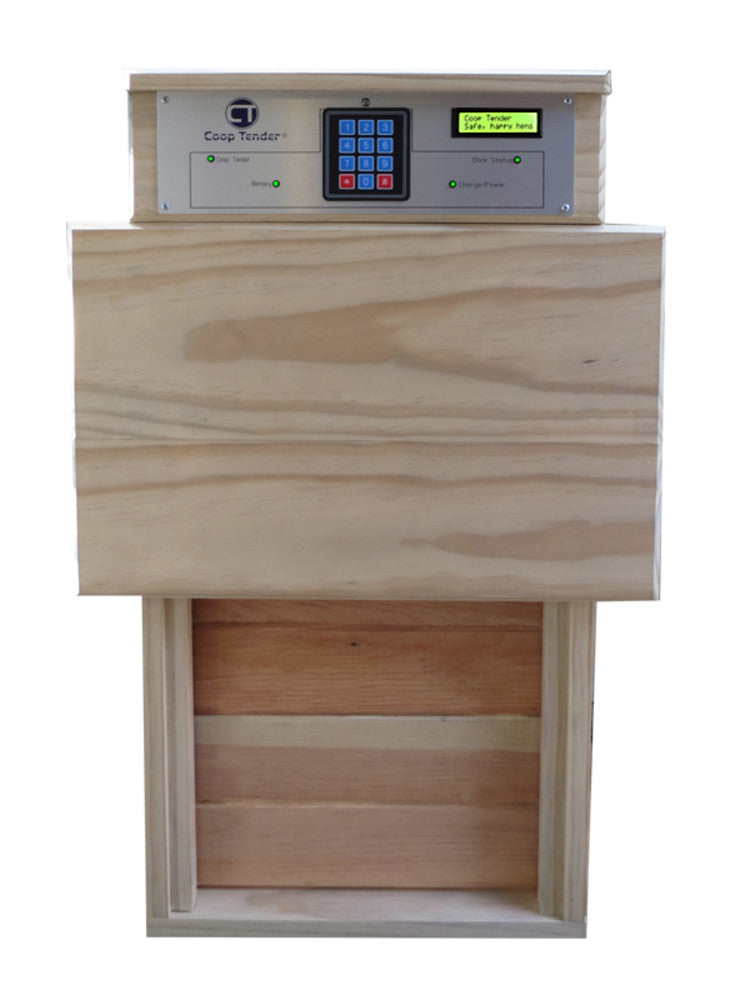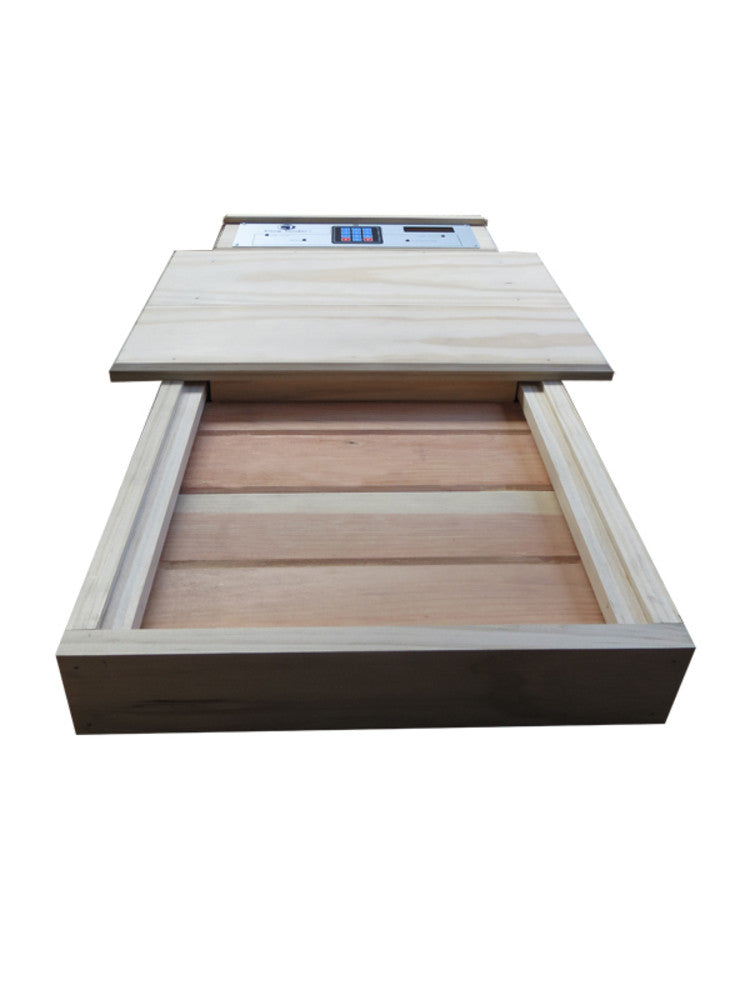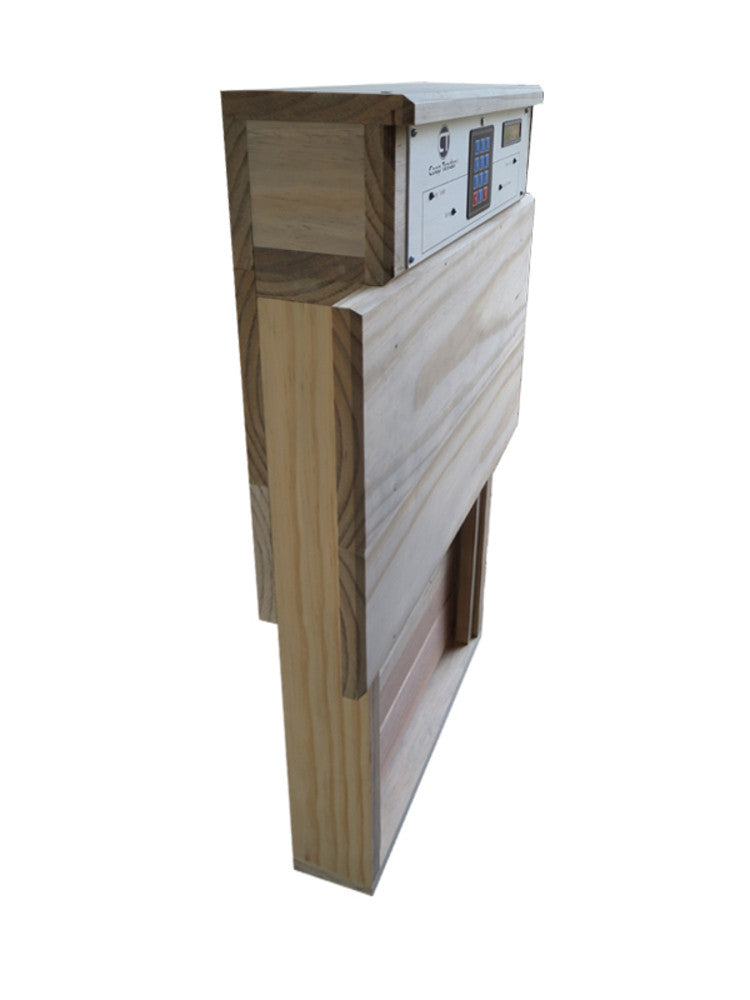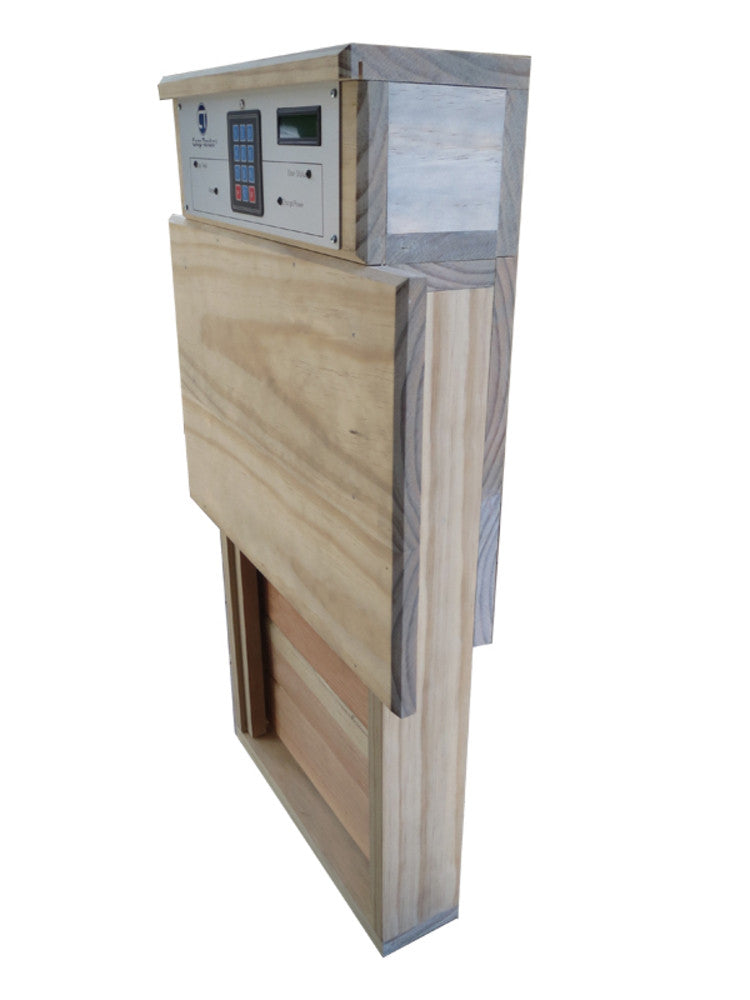 Large Automatic Chicken Door + Internet Wi-Fi Bundle
CT-004A-Wi-Fi
Regular price
USD 640.00
Price
USD 498.98
Save USD 141.02
/
---
Coop Tender® Internet WiFi Enabled Large Automatic Chicken Door is a fusion of advanced micro-controller electronics, solid steel drive and time-honored wood craftsmanship. 
Suitable for all chicken breeds, including the larger Jersey Giants, Brahma and Cochin breeds as well as ducks. It is also suitable for smaller turkey breads such as the Midget White, Royal Palm and Bourbon Red varieties up to about 20 pounds. For larger turkey varieties, consider the
Extra-Large Automatic Chicken Door
.
Automatically 
opens your coop door at dawn and securely closes it at dusk, 
or
 schedule door open and close times
!
Programmable door controller: Program custom options, adjust settings and manually override your door.
Our Large Automatic Coop Door is constructed with solid 1 inch dimensional lumber. Indoor / Outdoor rated select grade pine lumber is treated with an environmentally safe, non-toxic treatment which lasts a lifetime and never needs to be re-applied!
At-A-Glance Status LED Lights
make it easy to check the status of your coop door from a distance in the dark.
Key Large Automatic Chicken Door Features:
Automatically Opens and Closes your Coop Door
Three modes of operation: Dawn-to-Dusk (A.K.A. Dusk-to-Dawn), Schedule, or Manual
Internet Enabled - Internet Wi-Fi module included 
Programmable Freeze Protect - door stays closed when it's too cold outside
Programmable dawn and dusk delays - delay opening and closing for any amount of time (1 minute to 10 hours).
Computer driven digital control eliminates frozen mechanical components in winter
Solid Steel Acme threaded screw drive: True door lockdown. Predators are not able to open it when it is closed.
Simple installation.  Slide door into cutout in coop, secure with 4 mounting screws (included).
Manual Control:  Open and close the door manually using the keypad menu. With the optional Wi-Fi module, use the Universal Web App remote control.
1 inch dimensional lumber construction - Outdoor rated select grade pine 
100% predator proof!  Have peace of mind knowing that your hens are safe at night. Door cannot be opened by raccoons, cougars, bobcats, mink, coyotes, opossums, skunks or any other nighttime predator
Fully assembled. 
Large Automatic Chicken Door Specifications:
Input Voltage

85 - 264 Volts AC (Electric Operation)

12 - 19 Volts DC (Solar Operation)

AC Power consumption

1 Watt

DC Power consumption (idle)

40mA @ 12VDC (80mA with WiFi module connected.)


DC Power consumption (power save mode)

20mA @ 12VDC (60mA with WiFi module connected.)

DC Power consumption (chicken door opening or closing)

150mA-300mA @ 12VDC

Automatic Turkey Large Chicken Door cutout dimensions

30 1/2 inches high x 15 inches wide

Automatic Turkey Large Chicken Door overall dimensions

30 1/2 inches high x 19 inches wide x 5 5/16 inches deep

Coop door opening dimensions

12 inches high x 12 inches wide

Material

Select grade pine rated indoor/outdoor treated with non-toxic lifetime treatment
Brushed aluminum metal faceplate
5/8 inch Solid steel Acme threaded screw drive

Drive mechanism

solid steel worm / screw drive

DC motor

12 Volts

Door opening time

~1 minute

Door closing time

~1 minute

Operating temperature

-20 to +185 ℉
Internet Wi-Fi Module Key Features:
Coop Tender Universal Web App™: The latest technology in Mobile Optimized Web Apps. Access on any smartphone, iPad, tablet or computer with an Internet browser and connection.
Monitor and control your coop door from anywhere in the world with an Internet browser and connection. 
Door Programming

 

- Program your door from the Universal Web App™
Download and view data log charts

Ambient light values
Door open and closed times
Temperature 
Battery charge 

Real time coop door status

Coop temperature 
Door status
Door

 control mode

 (Dusk to Dawn, Schedule or Manual)

Receive alerts SMS and email alerts from your door

Door status changes (Opening, Open, Closing, Closed)
Low battery voltage 
Included in your Large Automatic Chicken Door WiFi Bundle
Mounting Screws (4 2-inch galvanized wood screws)
Requirements:
All U.S bound and international orders ship via FedEx, UPS or United States Postal Service (U.S.P.S.).  
Orders ship within 2 to 5 business days. If you have an urgent need, please contact us. We will do our best to accommodate.
The UPS delivery map below shows how many days your automatic chicken door order will take to be delivered once shipped.
Shipping prices are based on size and weight of the package as well as the delivery address.  
We reserve the right to cancel any order if actual shipping charges become unreasonable to ship your order.   You will be notified if this should occur.
We are not responsible for incorrect addresses or extra charges that may occur from changing an address after your order has shipped. If you provided an incorrect address at checkout or request an address change after your order has shipped, you will be responsible for any additional charges which may be incurred to reroute your order.